UA Recognized as Student Fulbright Awards Top Producer; Sets University Record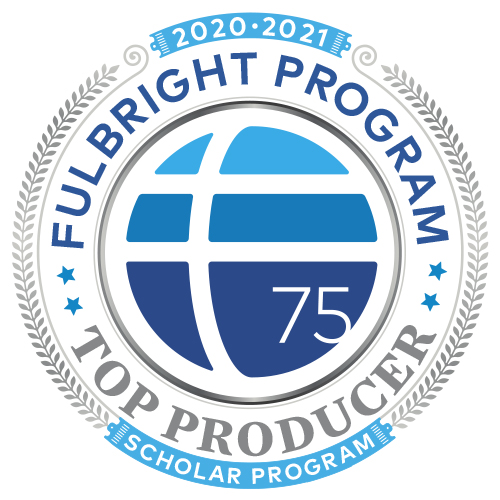 TUSCALOOSA — For the fifth time in six years, The University of Alabama was recognized as a Top Producing Institution for Fulbright U.S. Student Awards. Additionally, the 2020–2021 cohort sets a new University record with 17 students receiving Fulbright Award offers.
"We are immensely proud of our student Fulbright scholars, all of whom have earned a priceless opportunity to teach and conduct research in other countries," said UA President Stuart R. Bell. "Not only will they grow personally and intellectually by building relationships with likeminded peers across cultures, they are also furthering UA's mission of transforming lives throughout the world through distinctive academic and research projects."
Now in its 75th year, the Fulbright U.S. Student Program is the premier educational exchange program of the United States Department of State. The Fulbright Award offers grants for independent study and research and for English teaching assistantships overseas. The highly competitive program selects about 2,200 award recipients from more than 10,000 applicants each year.
"UA's repeated recognition as a Top Producer of Student Fulbright Awards reflects the quality of our applicants and the dedication of our faculty and staff to providing all students with a global perspective during their time at the Capstone," said Dr. Teresa Wise, associate provost for International Education & Global Outreach. "The challenges of the pandemic have altered our delivery methods but not our devotion to offering a world-class and world-focused education."
The UA students who received Fulbright Award offers in this year's national competition are: Christine Allen (Spain), Austin Blair (Germany), Mason Olivia Blanke (Poland), Camille Carr (Colombia), Julia Coursey (Hungary), Caroline Smith Dean (Spain), Isabella Rose DeSheplo (Bulgaria), Lota Erinne (Spain), Logan Fenhouse (Spain), Amelia Wyant Gaither (Taiwan), Robert "Chad" Hankins (Germany), Asia Hayes (Spain), Joshua Kirks (Germany), Katherine Lightfoot (Germany), Ashley Tickle Odebiyi (Italy), Rebecca Paholski (Spain) and Ian Samlowski (Germany).
"These brilliant students deserve admiration for their dedication to their studies, and our university takes pride in their Fulbright honors," said Dr. Beverly Hawk, director of global and community engagement in the Division of Community Affairs' Center for Community-Based Partnerships. "We wish them all success as international travel resumes, educational institutions reopen, and winners have the opportunity to go abroad and serve."