Third Annual 100 Lenses Creative/Leadership Camp Begins Sunday, June 10 on UA Campus.
Contact: Dr. Heather Pleasants, heather.pleasants@ua.edu, 205-535-8073
Black Belt 100 Lenses Summer Camp Set For June 10–14
TUSCALOOSA — The third annual Black Belt 100 Lenses Summer Camp begins Sunday, June 10. The University of Alabama campus will host 50 public and private high school students from the 12 counties of Alabama's Black Belt region.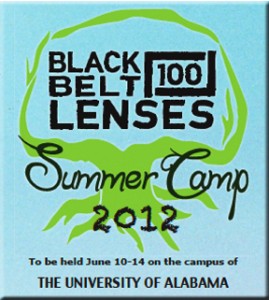 The campers will develop a greater understanding and appreciation of the history and people of the Black Belt region through photography, writing, performance, discussion, and multiple hands-on activities.
The project is one of the signature programs under the Office of Community Education in the Center for Community-Based Partnerships (CCBP). Community Education Director Dr. Heather Pleasants had this to say as the camp opened:  "The camp's legacy is the growth in knowledge, creativity and leadership that students experience. We look forward to seeing how these students will go on to create positive change in their communities and how the 100 Lenses experience affects their life's goals."
Key personnel for the camp are graduate students Meredith Randall, Kristin Law and Elliot Knight. Camp facilitators are undergraduate students Betsy Seymour, Greg Houser, Juan Carlos Rayes, Katy Gunn, Katie Berger, Ellie Isenhart and D'Anthony Jackson.
Selected by an advisory committee prior to the camp, participants are chosen based on creative submissions. The students were given cameras and asked to explore and document what was important in their lives and communities. Participants will share those photos with their peers to generate ideas to make their communities better. During camp, students will work together on creative photography activities, hear from community leaders, participate in creative writing workshops, and collaborate with local artists.
Black Belt 100 Lenses Camp will culminate with an exhibition of the students' photography and writing at a reception with their families and community leaders on Thursday, June 14 at The University of Alabama's Ferguson Center Gallery. The exhibit will continue until June 29. Following this initial exhibition, photographs will travel to venues in all 12 counties of the Black Belt region, each event organized with the help of the campers from their home county.
In conjunction with promoting skills in the art of photography and creative writing, the program also includes the goals of strengthening each students leadership skills, knowledge of Black Belt history, civic and community awareness, and critical thinking skills.
Doctoral Student Elliot Knight, the founder of 100 Lenses, is writing his dissertation about the history and impact of 100 Lenses.
Following is a sampling of his presentations and exhibitions based on his research: Fall 2008, Imagining America national conference. Los Angeles; fall 2009, Imagining America national conference, New Orleans; fall 2009, National Association of Graduate and Professional Students, Lincoln, Nebraska; spring 2010: Connecting the Dots: David Matthews Center for Civic Life national conference, Point Clear, Ala.; September 2010: Alabama Rural Health Conference in Tuscaloosa; spring 2011: Citizens Toolbox National Conference, Miami University; January 2012: Alabama Digital Humanities Center Luncheon in Tuscaloosa.
Future presentations: Proposals accepted at Scholarship in Action: Communities, Leaders and Citizens Conference, Auburn University, August 9-11, 2012 and NOSC 2012, September 30–October 3, The Univesity of Alabama. Other submissions awaiting notification.
Black Belt 100 Lenses is a partnership between the Black Belt Community Foundation, The University of Alabama's Center for Community-Based Partnerships, the Alabama State Council on the Arts and both public and private high schools in Bullock, Choctaw, Dallas, Greene, Hale, Lowndes, Macon, Marengo, Perry, Pickens, Sumter and Wilcox counties.